Yiddish on the Continent
Due to the current outbreak of COVID-19, we have decided to postpone the seminar « Yiddish on the Continent »
to next year's spring break, from Tuesday, April 6 to Friday, April 16, 2021.
Established in December 1970, the Institute of Jewish Studies in Brussels is a non-profit organization recognized by the State.
Its Board of Deputies includes leading professors from prominent universities in Belgium.
The Institute offers courses in Jewish languages, literature, history, thought and civilization. After the completion of a two year graduate programme, students receive a « Master en science des religions et de la laïcité » conferred by the Free University of Brussels. Courses are also open to the public.
L'Institut d'Etudes du Judaïsme, a major European Centre for Jewish Studies, announces an intensive programme in Yiddish language and literature to be held from
July 20th to July 31st, 2020.

The programme is designed to:
- introduce students to the Yiddish language, literature and culture
- enrich existant knowledge.

The summer programme offers students intensive language courses catering to elementary, intermediate and advanced levels. Language classes are predominantly conducted in Yiddish. The morning classes are complemented with a broad range of language enrichment activities including :
- Singing workshop with Shura Lipovsky
- Theatre workshop with Tal Hever-Chybowski
- Translation workshop with Batia Baum
- Lectures on specialised subjects
- Yiddish film
- Yiddish press
- Visits to Jewish sites (museum, synagogues, monuments).
Our teaching staff includes professors from Belgium, France and England :
Helen BEER - University College, London - University of London (Levels 2 and 3).
Tal HEVER-CHYBOWSKI – Maison de la Culture Juive - Paris (Levels 1 and 4).
Sonia DRATWA-PINKUSOWITZ - Institut d'Etudes du Judaïsme – ULB – Brussels (Levels 3 and 4).
Annick PRIME-MARGULES – Paris Yiddish Centre – Paris (Levels 1 and 2).
The cost for the two-week programme is 480 euros (or 350 euros for full-time university students).
As places are limited, only applications with full payment will ensure participation in the programme.
Applications must be received no later than
June 15th, 2020 and sent to the following address :
Institut d'Etudes du Judaïsme
Séminaire Yiddish
17 Av. F. Roosevelt
B- 1050 Bruxelles
Or by e-mail : iej@ulb.ac.be
Payments should be made to the following bank account :
Bank ING : 310-1518513-64
Code IBAN : BE29 3101 5185 1364
Code BIC : BBRUBEBB

APPLICATION FORM
Name
Address
Country
Phone & Fax
E-mail
Please attach a photocopy of your ID Card or Passport
Please include a brief description of your previous exposure to Yiddish on a separate page.
[ ] By submitting this form, I agree that the information entered will be used for the purposes described below.
Conditions of use of your personal data: By registering, you accept that the Institute of Jewish Studies retains and uses your personal data collected in this form in order to improve our exchanges. In this case, you authorize the Institute for Jewish Studies to communicate with you occasionally if it deems it appropriate to inform you about the Yiddish Summer Classes and activities. In order to protect the confidentiality of your personal data, the Institute undertakes not to disclose, nor to transmit nor share your personal data with third parties. We will only provide participants with a list of email addresses (please, inform us if you do not want to be on this list). During the Seminar, we will take a group photo which we will distribute. We will also take photos during the activities. Please inform us if you do not want these photos to be shared outside the group. To know and exercise your rights, in particular to withdraw consent to the use of your data collected by this form, please write to us at <iej@ulb.ac.be>.
Scholarships
The Institute for Jewish Studies offers scholarships to students between 18 and 30 years, who wish to participate in the Yiddish University in Brussels.
Three Scholarships are available, covering the registration fee (350 €)
Deadline for Application Submission : Friday, April 29th, 2020
The Scholarship Application Form is available by e-mail : iej@ulb.ac.be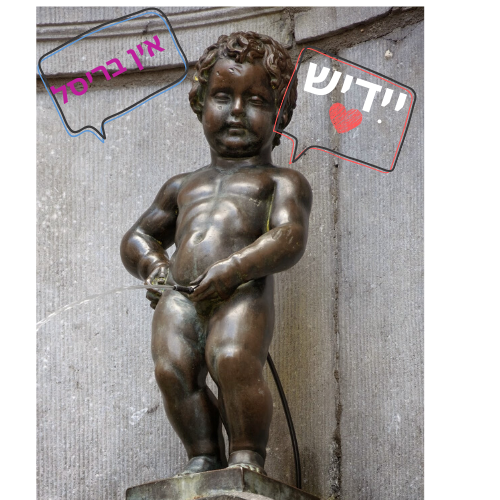 For further information, please contact :
Institut d'Etudes du Judaïsme – ULB
Séminaire Yiddish
17 Av. F. Roosevelt, B- 1050 Bruxelles
Tel: 00 32 2 650 33 48
Fax: 00 32 2 650 33 47
e-mail: iej@ulb.ac.be
Internet: iej.site.ulb.be
www.facebook.com/events/808394239585248/
Map